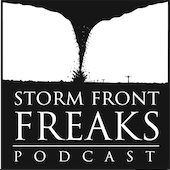 In This Episode
Guest: Brantley Hargrove, Author
Helicity Designs and discount code
Lightning Round: Minute to Win It – Top 30 greatest cartoon cats
Titan U Minute with Chris Sanner
Discussion: Will we ever be able to forecast tornadoes for a specific neighborhood?
Wx Resources: We provide some great weather sites, apps and equipment
Weather Fools: We share the foolish things people do in bad weather situations
Who will be our next guest?
Visit www.HelicityDesigns.com for our Storm Front Freaks lineup of drinking containers.  Use code: PODCAST at check-out for 5% off your entire order
Our Guest
Brantley Hargrove, Author of The Man Who Caught the Storm (The Life of Legendary Tornado Chaser Tim Samaras)
Brantley Hargrove is a journalist who has written for Wired, Popular Mechanics, and Texas Monthly. In his reporting, he has explored the world of South American jewel thieves who terrorize diamond dealers in South Florida. He's gone inside the effort to reverse-engineer supertornadoes using supercomputers. And he has chased violent storms from the Great Plains down to the Texas coast, including a land-falling Category 4 hurricane and one of the rarest tornadic events in recent memory: twin EF4 tornadoes that chewed through a small Nebraskan farming village. He lives in Dallas, Texas, with his wife, Renee, and their two cats. The Man Who Caught the Storm is his first book.
Titan U Minute with Chris Sanner:  www.TorndaoTitans.com
Wx Resources Links
Weather Fools Links
Submit your questions or comments about this show to questions@stormfrontfreaks.com and we may read it on our next episode!
Next episode (57), we'll visit with legendary Alabama meteorologist and Weather Brain, James Spann!
Credits
Opening and Closing Music:  Andrew Slotta