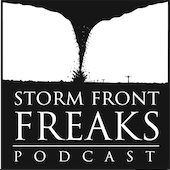 In This Episode 
Guest: James Spann, Chief Meteorologist, ABC 33/40 Birmingham
Helicity Designs and discount code
Lightning Round: Alabama High or Low
Titan U Minute with Chris Sanner
Discussion: Is a unified weather communication message just a pipe dream?
Wx Resources: We provide some great weather sites, apps and equipment
Weather Fools: We share the foolish things people do in bad weather situations
Who will be our next guest?
Visit www.HelicityDesigns.com for our Storm Front Freaks lineup of drinking containers. Use code: PODCAST at check-out for 5% off your entire order
Our Guest 
James Spann, Chief Meteorologist, ABC 33/40 in Birmingham, AL
James is the Chief Meteorologist for ABC 33/40 in Birmingham, AL. In all, James has been a television weather anchor for over 36 years. Along the way he has worked for WSFA in Montgomery, KDFW in Dallas and two other stations in Birmingham.
A multiple Emmy winner, James has received the two highest awards in the nation for a broadcast meteorologist. One is "Broadcaster of the Year" by the NWA, the other was the AMS "Award for Broadcast Meteorology".
A panelist on the Weather Brains podcast, James also earned his first ham radio license at the age of 14, and holds an extra class license.
Titan U Minute with Chris Sanner: www.TorndaoTitans.com
Wx Resources Links
Weather Fools Links
Submit your questions or comments about this show to questions@stormfrontfreaks.com and we may read it on our next episode!
Next episode (58), we'll visit with popular Texas storm chaser and musician "Pecos Hank" Schyma!
Credits 
Opening Music: Brett Epstein
Closing Music: Gabe Cox