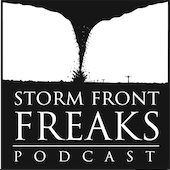 In This Episode
Guest: Daniel Shaw, Australian Storm Chaser
Helicity Designs and discount code
Lightning Round: 3 Strikes and You're Out-Australia
Indian Storm Chasers Convention
Partner and Promote with Storm Front Freaks Podcast
#WeatherFools – People doing stupid things in weather
ChaserCon Canada
Weather Troll-bot 5000 – Our computer can explain what our weather friends were thinking when responding to the trolls
Who will be our next guest?
Visit www.HelicityDesigns.com for our Storm Front Freaks lineup of merchandise. Use code: SFF at check-out for 5% off your entire order
Our Guest
Daniel Shaw, Australian Storm Chaser
Daniel often chases severe weather in Sydney and captures events for the local media. He serves as News Director for Severe Weather Australia. Every year he travels to the United States between April and June to seek out some of the world's most powerful storms.
Indiana Chaser Convention at indchasercon.com
Partner with the Freaks
If interested in partnering with Storm Front Freaks Podcast and promoting your product or service to thousands of weather fans, contact phil@stormfrontfreaks.com
#WeatherFools Links
ChaserCon Canada Registration at Eventbrite.com
Submit your questions or comments about this show to questions@stormfrontfreaks.com and we may read it on our next episode!
Next episode (62), our guest will be Ed Teets, Atmospheric Scientist at NASA's Airborne Science Program
Credits
Opening Music: Brett Epstein
Closing Music: Gabe Cox
Other Music: "Pecos Hank" Schyma from El Reno Blues