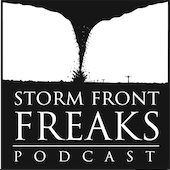 In This Episode
Guest: Rick Reichmuth, Chief Meteorologist at Fox News and Creator of Weatherman Umbrellas
Helicity Designs and discount code
Lightning Round: Burger Positions
Partner with the Storm Front Freaks
#WeatherFools links of people doing stupid things in weather situations
Funny Weather Memes you can share with your friends
Who will be our next guest?
Our Guest
Rick Reichmuth, Chief Meteorologist for FOX News and creator of Weatherman Umbrellas
Rick Reichmuth is the Chief Meteorologist at Fox News Channel.
Before joining FOX, Rick worked as a live weather anchor for Weather Services International, CNN, CNN Headline News, and CNN International.
Rick graduated from Arizona State University with a degree in Spanish literature and after a decade in banking went on to pursue his lifelong dream at Georgia State University and Mississippi State University to complete a broadcast meteorology program.  He also started his line of Weatherman Umbrellas in 2017.
Twitter: @RickReichmuth
Facebook: Rick Reichmuth
Instagram: @RickReichmuth
Facebook: Weatherman Umbrella
Instagram: @WeathermanUmbrella
Twitter: @WxUmbrella
Visit www.HelicityDesigns.com for our Storm Front Freaks lineup of merchandise.  Use code: SFF at check-out for 5% off your entire order
Partner with the Storm Front Freaks.  To learn of the opportunities to partner with us, visit http://www.stormfrontfreaks.com/partner-with-us.html
Weather Fools Links:
Funny Weather Memes:
Submit your questions or comments about this show to questions@stormfrontfreaks.com and we may read it on our next episode!
Next episode (66), our guest will be Bruce Jones, Meteorologist with Midland Radios and our 3rd Annual Holiday Weather Shopping Extravaganza.
Credits
Opening Music: Brett Epstein
Closing Music: Gabe Cox
Other Music: "Pecos Hank" Schyma from El Reno Blues