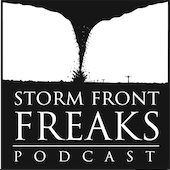 In This Episode
Our Guests
Bruce Jones and Bruce Thomas, Meteorologists at Midland Radio
Bruce Jones and Bruce Thomas are known as "The Bruces from Midland".   They are both former TV meteorologists who believe strongly that every home, school and business should have a NOAA Weather Radio.  Thomas was on the air during the Jarrell, TX tornado (May 27, 1997) and Jones was living outside Rapid City, SD on June 9, 1972 when the big flood killed 238 people.
They continue to spread the word that NOAA Weather Radio saves lives!
Partner with the Storm Front Freaks. To learn of the opportunities to partner with us, visit http://www.stormfrontfreaks.com/partner-with-us.html
Midland Radio Products
Twitter @cycloneJones1
Twitter @BruceWxMan
Visit www.HelicityDesigns.com for our Storm Front Freaks lineup of merchandise. Use code: SFF at check-out for 5% off your entire order
Other Great Weather Products
Submit your questions or comments about this show to questions@stormfrontfreaks.com and we may read it on our next episode!
Next episode (67), our guest will be Jim Williams of HurricaneCity.com.
Credits