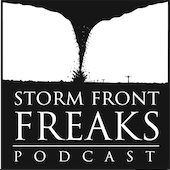 In This Episode
Guests: Owner Nathan Moore and VP of Production Carey Meltzer of SVL Media (Storm Video Broker)
Tracker Chat with the Tornado Trackers – Using Forecast Models
Helicity Designs and discount code
Lightning Round: Hollywood Squares
Tornado Talk with Jen Narramore – Wichita Falls, TX Tornado of 1979
Partner with the Storm Front Freaks
#WeatherFools – We share examples of people doing foolish things in weather situations
Weather's Believe It or Not – You won't believe these crazy weather stories
Who will be our next guest?
Our Guests
Nathan Moore, Owner and Cary Meltzer, VP of Production for SVL Media
Nathan Moore is owner of StormViewLIVE and SVL Media. He also chases for KETV ABC out of Omaha and NTV out of Central Nebraska. Nathan has been chasing for nearly 20 years and is currently a double major student at the University of Nebraska in Meteorology and GIS.
Cary Meltzer is VP of Production for SVL Media, an Advanced Skywarn Storm Spotter, and FAA licensed private pilot flying a plane before he was even old enough to drive a car. His obsession for storms has led him to realize his dream of becoming a full time storm chaser.
To learn more about the Tornado Trackers visit them at www.TornadoTrackers.org
Visit www.HelicityDesigns.com for our Storm Front Freaks lineup of merchandise. Use code: SFF at check-out for 5% off your entire order
Get hooked on tornado history at www.TornadoTalk.com
Partner with the Storm Front Freaks. To learn of the opportunities to partner with us, visit http://www.stormfrontfreaks.com/partner-with-us.html
#WeatherFools Links
Weather's Believe It or Not Links
Submit your questions or comments about this show to questions@stormfrontfreaks.com and we may read it on our next episode!
Next episode (71), we'll have Marc Remillard and Bobby Nicholls from the Outbrk storm chasing video game
Credits
Opening Music: Brett Epstein
Closing Music: Gabe Cox
Other Music: "Pecos Hank" Schyma from El Reno Blues