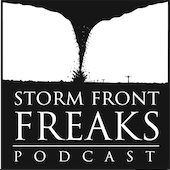 In This Episode
Guest: Mace Michaels, Meteorologist for the Minnesota Twins, WeatherNation and Severe Studios
Tracker Chat with the Tornado Trackers – Tornadoes That Shaped Us Part 2
Question of the Week: Is The Weather Channel responsible for the deaths of Corbin Jaeger, Kelley Williamson and Randy Yarnall?
Lightning Round: Lightning Hi or Lo
Tornado Talk with Jen Narramore – 1974 Xenia, OH F5
#WeatherFools-We present the fools doing stupid things in weather situations
Who will be our next guest?
Brought to you by Extreme Tornado Tours at www.extremetornadotours.com
Our Guest
Mace Michaels, Meteorologist Minnesota Twins Baseball, WeatherNation, SevereStudios
Mace Michaels is a Meteorologist for the Minnesota Twins, WeatherNation and Severe Studios. His 30 years in broadcasting have taken him all across the Midwest and in the South. His first TV Meteorology job was in Wausau, WI, followed by stops in Grand Rapids, MI, Fort Myers, FL, Tampa, FL, Cedar Rapids, IA, Minneapolis, MN and then across the country on WeatherNation.
With a Bacherlor's degree in Meteorology from the University of North Dakota, Mace is also an AMS Certified Broadcast Meteorologist and winner of two regional Emmy awards for Hurricane and Winter Storm coverage.
Follow Mace on social media:
Atmosphere Weather App is the Official Weather App of the Storm Front Freaks on iOS and Android
To learn more about the Tornado Trackers visit them at www.TornadoTrackers.org
Visit Helicity.co for our Storm Front Freaks lineup of merchandise. Use code: SFF at check-out for 5% off your entire order
Question of the Week
Question of the Week Link: Three storm chasers died in a violent Texas collision. One mother now blames the Weather Channel
Tornado Talk
Get hooked on tornado history at www.TornadoTalk.com
Weather Fools Links:
Submit your questions or comments about this show to questions@stormfrontfreaks.com and we may read it on our next episode!
Next episode (77), we'll have FOX-KDVR, Denver Meteorologist Jessica Lebel as part of our "Coast to Coast with your Favorite TV Meteorologists" series.
Credits
Opening Music: Brett Epstein
Closing Music: Gabe Cox
Other Music: "Pecos Hank" Schyma from El Reno Blues