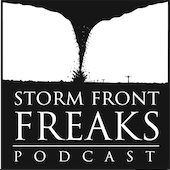 In This Episode
Guest: NTV Newfoundland, Canada Chief Meteorologist, Eddie Sheerr
Tracker Chat with the Tornado Trackers – Sharing Storm Video
Lightning Round: Border Patrol
Tornado Talk with Jen Narramore – 1957 Fargo F5
#WeatherFools-We present the fools doing stupid things in weather situations
Wx Resources-We share some great resources you may be interested in
Freak Fan Box - we check in with our fans
Our Guest
Eddie Sheerr, Chief Meteorologist, NTV Newfoundland, Canada
Eddie Sheerr is NTV's Chief Meteorologist in Newfoundland, Canada. Eddie's career as a meteorologist brought him to TV stations in Macon, Georgia, and Grand Junction, Colorado, before he joined the NTV News team in 2013. He has a Bachelor of Science in meteorology from Plymouth State University in New Hampshire.
Follow Eddie Sheerr:
Atmosphere Weather is from the family of the Official Weather Apps of the Storm Front Freaks and available on iOS and Android
To learn more about the Tornado Trackers visit them at www.TornadoTrackers.org
Visit Helicity.co for our Storm Front Freaks lineup of merchandise.  Use code: SFF at check-out for 10% off your entire order
Get hooked on tornado history at www.TornadoTalk.com
Weather Fools Links
Wx Resources Links
Submit your questions or comments about this show to questions@stormfrontfreaks.com and we may read it on our next episode!
Next Episode records on June 27th we have Nick Drieschman from Extreme Tornado Tours joining us!
Credits
Opening Music: Brett Epstein
Closing Music: Gabe Cox
Other Music: "Pecos Hank" Schyma from El Reno Blues