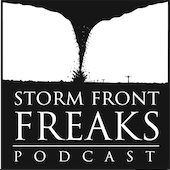 In This Episode
Guest: Kevin Kloesel, Meteorologist at the University of Oklahoma's Office of Emergency Preparedness
Lightning Round: Name that Sporting Event
#WeatherFools-We present the fools doing stupid things in weather situations
Wx Resources that you will want to use!
Our Guest
Dr. Kevin Kloesel, Meteorologist, University of Oklahoma Office of Emergency Preparedness
Kevin is responsible for providing weather forecast and weather safety information to the OU Office of Emergency Preparedness before, during and after weather threats of all types on the OU Campus.  In addition, Kevin serves as Director of the Oklahoma Climatological Survey.
Follow Kevin on Social Media:
For more information about AcuRite and the Atlas weather station visit Acurite.com and use code PODCAST at checkout for an exclusive 10% off your entire purchase!
Visit Helicity.co for our Storm Front Freaks lineup of merchandise.  Use code: SFF at check-out for 10% off your entire order
#WeatherFools Links:
Wx Resources Links:
Submit your questions or comments about this show to questions@stormfrontfreaks.com and we may read it on our next episode!
Next Episode records on November 14th we have storm chaser and storm photographer Simon Brewer at 9pmE/8pmCT
Credits
Opening Music: Brett Epstein
Closing Music: Gabe Cox
Other Music: "Pecos Hank" Schyma from El Reno Blues