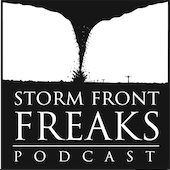 In This Episode
Our Guest
Amy Sweezey, Meteorologist, WESH-TV, Orlando and Children's Author 
Amy Sweezey is an award-winning Broadcast Meteorologist and children's book author. With more than 20 years of experience in television, Amy joined the WESH-2 News team in Central Florida in August 2002 after working at the CBS affiliate in Kalamazoo. 
Amy's children's book, Let's Talk Weather, TV Forecasting: Behind the Scenes, was awarded a GOLD MEDAL in the FAPA President's Book Awards in 2018. Her first book, It Never, Ever Snows in Florida, received a 2018 Preferred Choice Award in the from Creative Child Magazine. 
Follow Amy on Social Media:
Find Amy's Books at:
For more information about AcuRite and their merchandise supporting the National Weather Association Foundation, visit Acurite.com and use code PODCAST at checkout for an exclusive 10% off your entire purchase!
Visit Helicity.co for our Storm Front Freaks lineup of merchandise.  Use the latest episode code: FREAKS at check-out for 10% off your entire order
Download the Drive Weather App this winter season and find the safest time to leave.  Learn more at www.driveweatherapp.com
#WeatherFools Links:
Wx Resources Links:
Submit your questions or comments about this show to questions@stormfrontfreaks.com and we may read it on our next episode!
Next Episode records on December 19th we have storm chaser Parker Koppes of Pawnee Storm Chasers to tell the story of how storm chasing saved his life.  We record at a special time of 9:30pmET/8:30pmCT and the edited podcast released 12/29.
Credits