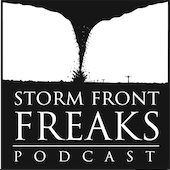 In this Episode
Our Guest
Josh Morgerman-Hurricane Chaser and star of the Science Channel's Hurricane Man
Joshua Morgerman is an American businessman, storm chaser, and star of the 2019 Hurricane Man series on the Science Channel.  Best known for his multitude of tropical cyclone chases, his storm chasing career began in 1991 and flourished beginning in 2005 with Hurricane Wilma in Florida. With no formal education in meteorology, all his experience comes from the chases. Morgerman has penetrated the inner cores of 49 hurricanes and typhoons including Super Typhoon Haiyan in 2013 and Hurricane Dorian in 2019.
Follow Josh on Social Media and Watch Hurricane Man:
For more information about AcuRite weather products, visit Acurite.com and use code PODCAST at checkout for an exclusive 10% off your entire purchase!
Visit Helicity.co for our Storm Front Freaks lineup of merchandise.  Use the latest episode code: EPISODE at check-out for 10% off your entire order
Download the Atmosphere Weather app and see the hourly weather forecast on a clock for a quick read .  Learn more at www.atmosphereweather.com
#WeatherFools Links:
Wx Resources Links:
Submit your questions or comments about this show to questions@stormfrontfreaks.com and we may read it on our next episode!
Next Episode records on January 23rd we have Chief Meteorologist at FOXNews, Rick Reichmuth.  We record at 9:00pmET/8:00pmCT.
Credits