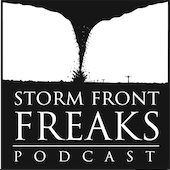 In This Episode
Our Guest
Rick Reichmuth, Chief Meteorologist at FOX News and Creator of Weatherman Umbrella
Rick Reichmuth is the Chief Meteorologist at Fox News Channel. 
Before joining FOX, Rick worked as a live weather anchor for Weather Services International, CNN, CNN Headline News, and CNN International. 
Rick graduated from Arizona State University with a degree in Spanish literature and after a decade in banking went on to pursue his lifelong dream at Georgia State University and Mississippi State University to complete a broadcast meteorology program.  He also started his line of Weatherman Umbrellas in 2017. 
Follow Rick on Social Media and Weatherman Umbrella:
For more information about AcuRite weather products, visit Acurite.com and use code PODCAST at checkout for an exclusive 10% off your entire purchase!
Visit Helicity.co for our Storm Front Freaks lineup of merchandise.  Use the latest episode code: SFF at check-out for 10% off your entire order
Download the Atmosphere Weather app and see the hourly weather forecast on a clock for a quick read.  Learn more at www.atmosphereweather.com
#WeatherFools Links:
Submit your questions or comments about this show to questions@stormfrontfreaks.com and we may read it on our next episode!
Next Episode records on February 6th at a special time of 7pmET/6pmCT.  We're celebrating Women in Science Day with ABC Chief Meteorologist, Ginger Zee!
Credits