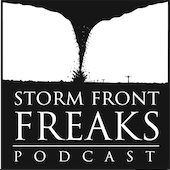 In This Episode
Our Guest
Ginger Zee, Chief Meteorologist at ABC News and Good Morning America
Ginger Zee is the chief meteorologist at ABC News, reporting on the nation's weather on "Good Morning America" and across ABC News broadcasts and digital platforms. 
Prior to joining ABC News, she was a meteorologist at NBC station WMAQ in Chicago and WOOD-TV in Grand Rapids, MI. 
Zee, who has storm chased since college has a genuine passion for the atmosphere and a dedication to getting young people interested in science.
An acclaimed author, the Emmy Award-winning meteorologist attended Valparaiso University and holds a Bachelor of Science Degree in meteorology. 
Follow Ginger on Social Media:
Download the Atmosphere Weather app and see the hourly weather forecast on a clock for a quick read.  Learn more at www.atmosphereweather.com
Visit Helicity.co for our Storm Front Freaks lineup of merchandise.  Use the latest episode code: STORM at check-out for 10% off your entire order
#WeatherFools Links:
Wx Resources Links:
Submit your questions or comments about this show to questions@stormfrontfreaks.com and we may read it on our next episode!
Next Episode records on February 20th at 9pmET/8pmCT.  Returning to the show to talk about the 150th Birthday of the NWS is former Weather Channel Winter Weather Expert, Tom Niziol!
Credits