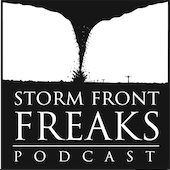 In This Episode...
Paxton and Quincy recall their 5/22-5/26 tornado chases

Guest:  Clayton Stiver, NBC 29 Meteorologist and Chief Technology Officer in Charlottesville, VA.

Lightning Round:  One or The Other

Storm School with Brady teaches different storms

The team discusses Media Hype of Weather Events

Weather Fools: We share our most crazy examples

Media Outbreaks:  We share our favorite photos, video or people

Listener questions and comments
Our Guest...
Clayton Stiver rejoined NBC29 in April 2015 as the Thursday/Friday and Weekend Meteorologist after working as Chief Meteorologist for a startup station, NH1 News Network, in Concord, NH. While at NH1 Clayton had the honor of building a weather department from the ground up during the historic 2014/2015 New England winter of record cold and snow.
Media Hype of Weather Events Article: 
Nimbus4 Website
 - Listen to the podcast to find out how to enter the drawing to win a Nimbus!!
Weather Fools Links
Media Outbreaks Picks
We may read it on our next episode!
Opening/Closing music by Andrew Slotta