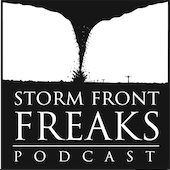 In This Episode
Show Updates:
Our Guest
Ross Ellet, Toledo TV Meteorologist at 13ABC and Storm/Aurora Photographer
October of 2005, I got my first chance to be on air.  Along with working weekends I also did some storm chasing for the station during the week all while finishing up my degree at Purdue. In early June of 2007 I accepted a Morning Meteorologist position at WOAY in Oak Hill, West Virginia. Just 3 months later I became one the youngest Chief Meteorologists in the country after I was promoted. A short time later I was awarded the Certified Broadcast Meteorologist (CBM) designation from the American Meteorology Society. In November of 2008 I started a new adventure in tornado alley. I accepted a Weekend Meteorologist position at KHBS/KHOG (40/29 in Fort Smith/Rogers, AR). I enjoyed my time in Arkansas in front and away from the camera, but it is was time to get back to my roots in the Midwest. I joined the 13ABC Weather Team in Toledo Ohio during the summer of 2012 and love the forecasting challenges of the Great Lakes
Weather Fools Links
WxResources Links
Submit your questions or comments about this show to questions@stormfrontfreaks.com and we may read it on our next episode!
Credits
Opening and Closing Music:  Andrew Slotta