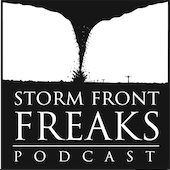 In This Episode
Guests: Ashley Morris, Emergency Manager-South Central Texas
Helicity Designs and discount code
Lightning Round: Family Feud Top 10 House Pets
Mid-Atlantic ChaserCon
Titan U Minute with Chris Sanner
Discussion on hurricane/disaster communication and VOST groups
Wx Resources: We provide some great weather sites, apps and equipment
Weather Fools: We share the foolish things people do in bad weather situations
Who will be our next guest?
Visit www.HelicityDesigns.com for our Storm Front Freaks lineup of drinking containers. Use code: PODCAST at check-out for 5% off your entire order
Our Guest 
Ashley Morris, Emergency Manager and Co-Host, Carolina Weather Group Podcast
Ashley is an emergency management planner in south central Texas. She assists with the creation and maintenance of disaster plans, as well as the coordination of city exercises and educational outreach campaigns. Ashley is also a weather liaison for her office. This entails weekly or event oriented weather forecasting, communication with NWS Austin-San Antonio, and weather event monitoring. Her first emergency management activation was for Hurricane Harvey this past August.
Ashley received her master's in geography with an emphasis in natural hazards from Texas Tech University in December of 2016.  She is also a co-host on the Carolina Weather Group Podcast.
Titan U Minute with Chris Sanner: www.TorndaoTitans.com
Wx Resources Links
Weather Fools Links
Submit your questions or comments about this show to questions@stormfrontfreaks.com and we may read it on our next episode!
Next episode (56), we'll be with Brantley Hargrove, author of The Man Who Caught The Storm: The Life of Legendary Tornado Chaser Tim Samaras
Credits
Opening and Closing Music: Andrew Slotta