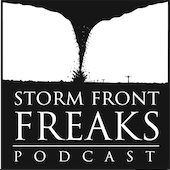 In This Episode
Guest: "Pecos Hank" Schyma, Storm Chaser and Musician
Helicity Designs and discount code
Lightning Round: Elvis Family Feud
Partner and Promote with Storm Front Freaks Podcast
Mythbusters: Storm Edition
Wx Resources: We provide some great weather sites, apps and equipment
Weather Fools: We share the foolish things people do in bad weather situations
Who will be our next guest?
Visit www.HelicityDesigns.com for our Storm Front Freaks lineup of drinking containers. Use code: PODCAST at check-out for 5% off your entire order
Our Guest
Hank Schyma, Professional Storm Chaser, Musician and Filmmaker
Hank Schyma, also known as Pecos Hank, is a musician, songwriter, filmmaker and professional stormchaser based in Houston, Texas. He has fronted the rock group Southern Backtones and now the Pecos Hank Band. During the same period, he has directed, produced and starred in a full length independent film, several music videos, and a catalogue of storm and nature documentation on The Weather Channel, Discovery Channel, National Geographic and more. He has also served as storm consultant on a major motion picture, The Last Witch Hunter with Vin Diesel.
If interested in partnering with Storm Front Freaks Podcast and promoting your product or service to thousands of weather fans, contact phil@stormfrontfreaks.com
Wx Resources Links
Weather Fools Links
Submit your questions or comments about this show to questions@stormfrontfreaks.com and we may read it on our next episode!
Next episode (59), we'll visit with one of the first Weather Channel meteorologists Tom Moore
Credits
Opening Music: Brett Epstein
Closing Music: Gabe Cox