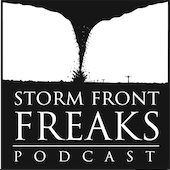 In This Episode
Guest: Ed Teets, Atomospheric Scientist with NASA
Lightning Round: Las Vegas Movies $100,000 Pyramid
Helicity Designs and discount code
Wx Resources-We share some great weather resources you may want to use
ChaserCon Canada and discount code
Funny Weather Memes you'll be sharing with friends
Who will be our next guest?
Our Guest
Ed Teets, Atmospheric Scientist with NASA's Flight Research Projects
Ed Teets, Jr is currently the Sr. Aviation meteorologist and the lead of the Atmospheric Sciences group at the NASA Neil A. Armstrong Flight Research Center, Edwards AFB.
Ed has been directly involved with a varying degree of aircraft over the years. These include the slow flying high altitude UAS's to high performance jets to mach 10+ hypersonic research flight demonstrators. He has been a part of the aerodynamics branch at Armstrong for the past 31 years, specializing in atmospheric effects on aviation.
Ed has his B.S. in Meteorology from the University of Utah and his M.S. in Atmospheric Physics from the University of Nevada-Reno.
Visit www.HelicityDesigns.com for our Storm Front Freaks lineup of merchandise. Use code: SFF at check-out for 5% off your entire order
Wx Resources Links
ChaserCon Canada Registration at ChaserConCanada.ca use discount code: SFF at checkout for early bird discount
Funny Weather Memes Links
Submit your questions or comments about this show to questions@stormfrontfreaks.com and we may read it on our next episode!
Next episode (63), our guest will be Michael Armstrong, Storm Chaser Producer of KOCO-TV in Oklahoma City
Credits
Opening Music: Brett Epstein
Closing Music: Gabe Cox
Other Music: "Pecos Hank" Schyma from El Reno Blues