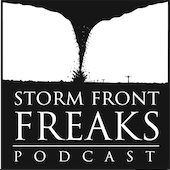 In This Episode
Guests: Marc Remillard (Head of Development) and Bobby Nicholls (Marketing Specialist) with OUTBRK Storm Chasing Video Game
Tracker Chat with the Tornado Trackers – Chase Day Morning
Helicity Designs and discount code
Lightning Round: Video Game Cash Cab
Tornado Talk with Jen Narramore – 1999 January Tornadoes
Partner with the Storm Front Freaks
Wx Resources – We share examples of great weather resources you may like
Weather Trollbot 5000 – Our robot interprets the responses to trolls from our weather friends
Who will be our next guest?
Our Guests
Marc Remillard, Head of Development and Bobby Nicholls, Marketing Specialist for upcoming OUTBRK storm chasing video game
OUTBRK is a multiplayer storm chasing video game, designed to emulate all of the fun of storm chasing, with none of the boring bits. Driven by real data from historical sever weather events, this game allows you to get the full experience of chasing each time you play, while adding a fun, competitive component
Marc Remillard, from Montreal, is Head of Development for OUTBRK and has been storm chasing for a little more than 13 years now, mainly in the tornado alley but also catching some twisters in Canada. Being a sound designer, mixer and composer, he started learning about game engines, using his basic knowledge in programming as a starting point.
Bobby Nicholls is Gameplay and Marketing Director for OUTBRK, with a main focus on driving gameplay decisions and ideas. Bobby lives in NW Arkansas and is CIO of a local software startup, as well as a part time chaser.
To learn more about the Tornado Trackers visit them at www.TornadoTrackers.org
Visit www.HelicityDesigns.com for our Storm Front Freaks lineup of merchandise. Use code: SFF at check-out for 5% off your entire order
Get hooked on tornado history at www.TornadoTalk.com
Partner with the Storm Front Freaks. To learn of the opportunities to partner with us, visit http://www.stormfrontfreaks.com/partner-with-us.html
Wx Resources Links:
Submit your questions or comments about this show to questions@stormfrontfreaks.com and we may read it on our next episode!
Next episode (72), our theme this year is going "Coast to Coast with Your Favorite TV Meteorologists" and we begin with Matt Zafino, Chief Meteorologist KGW-TV, Portland.
Credits
Opening Music: Brett Epstein
Closing Music: Gabe Cox
Other Music: "Pecos Hank" Schyma from El Reno Blues